Dedicated Hosting India: How Does It Give An Advantage?
If you are considering on embarking upon or expand an already existing web interface based business, be it an ecommerce or e-learning website for instance, there needs to be a launch plan or a re-launch initiative in place with the able support of a marketing or business venture. And one of the first things you will perhaps be forced to do is to choose a befitting hosting plans for your website. There are several options available here including a cheap shared hosting plan, a slightly more expensive virtual private hosting plan as well as reseller hosting plans and of course plans for dedicated hosting in India to choose from. The choice will most certainly depend on your current requirements, and the nature of goals and vision you have in mind.



Most Large Businesses Consider Dedicated Server Hosting
Most large business houses consider dedicated hosting in India for succeeding in creating a strong image, and a dominant presence. However, for companies planning to choose a dedicated server hosting platform, there are many interesting questions to counter. What are the bare necessities that need to be in place for ensuring that the dedicated server delivers as per promise? Every company requires a complete insight into the dedicated server hosting model before the choice can be made. It is all about choosing from an informed perspective.
Switching to Dedicated Server in India is a Sign of Success
Well, switching to a model providing dedicated hosting in India is certainly a sign for success. When the popularity of the website increases and more and more visitors troop in then switching to a dedicated hosting platform seems to be the most logical choice. Over time, the efficiency and power of such platforms have increased manifold and larger websites are now leveraging loads of benefits from these dedicated portals.
There are many reasons responsible for the surge in popularity of these web based interfaces. One of the most obvious one of course is the enhanced bandwidth that they have on offer. The other positive possibly is that of better backups. So what happens to businesses when data crashes? Anyone having a business that is based on the functions of the website will always want to recover and access the data as soon as he can. This is something that dedicated hosting promises.
So, will every dedicated hosting service promise benefits such as these? Well, it all depends on how well you can pick your options. There are many more things you need to learn about a dedicated server hosting solution. You need to be aware of the advantages that are relevant for the success of your company. We look at some essential parameters to check up on before opting for dedicated hosting in India.
Here are some of the measures to adopt for zeroing in on the best and the most suited dedicated server for your company.
Choosing a Befitting Service Provider for Dedicated Hosting in India
The market for dedicated hosting in India has evolved and today you have several choices to bank upon. However, there are some important aspects to take note of before you choose:
1. Select the Correct OS: here you have the option of choose a Windows or a Linux based system. While one based on Linux could prove to be more complex to manage as compared to a Windows based system, you can always seek help from your on duty support team for manning a dedicated server on Linux. However, if you are a fan of Windows, that is more likely to be your best bet.
2. The Processor Counts: If your website is a resource rich one, you will need to pick the most powerful and also the fastest processor you can afford. You may even consider engaging several processors for managing everything seamlessly. It is important to assess the scenario and determine the needs for the nature of processor you need. You may also ask for help from your service provider as and when required since they can help in choosing the processor strength and the operating system that would work best for your dedicated hosting plan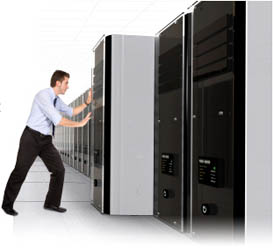 .
3. Round the clock Customer Support is Important: Remember, whenever you are opting for a plan supporting dedicated hosting in India, you will need a support team to fall back on round the clock. So, look for a service provider that shares 24/7 customer support. Most importantly, the response and the turnaround time needs to be super quick. So, consider testing a service provider. Try placing a call and emailing for testing out the promptness in customer support.
4. Consider your budget: Before you choose to go in for dedicated hosting in India, you should know whether you can afford a custom server. There are several costs concerning the services of a dedicated server. You may also require a faster processor and more expandable memory as your business continues growing. However, compromising on quality for saving money is a big mistake.
Make sure you have analyzed all aspects before choosing dedicated hosting partner.