Top 8 Tips For Entrepreneur To Design A WordPress Website
Every entrepreneur, whether its an artist, webmaster, sole proprietor, blogger, small business owner, etc decides to take his/her business online and for that website is the ultimate key.  In the market, there are multiple ways available that can be used to design a website in a simple step. One of the most popular solutions is a website builder tool that is used by millions of users to design a website instantly.  In the same way, WordPress is the popular CMS that is used for blogging. Additionally, it also supports other niche websites by offering superior features. If you are planning to enter into the business world and looking to design a website using a WordPress, this article will guide you accordingly regarding site builder and website hosting.
# Get a WordPress hosting:-
Once your website is ready to fly online next step is to get hosting for the WordPress website. There are various providers out there in the market and to select the best for your website is the toughest job. To solve this issue, you can check below my recommendation which I am using for my website and clients as well.
MilesWeb is one of the most popular web hosting providers in India. It was established in 2012 and located in Nashik, Maharashtra. They offer all types of hosting solutions at an affordable price and help to establish your business online successfully. You can use their WordPress hosting plan which is powered by JetPack, which permits you to avail the premium and professional service without investing an additional penny. Moreover, they are offering features like server Caching, Cloning, CDN, Railgun, Daily backups, Free SSL, WordPress themes, WP-CLI, GZIP, Brotli compression, SFTP, etc.  In short, you are getting fully managed WordPress hosting along with the advanced features at just Rs.455/ mo. You can say that they follow what their tag line speaks about them – "Your Hosting Our Responsibility". Looking for WordPress Hosting In India? Try MilesWeb!! Check below plans of WordPress hosting:-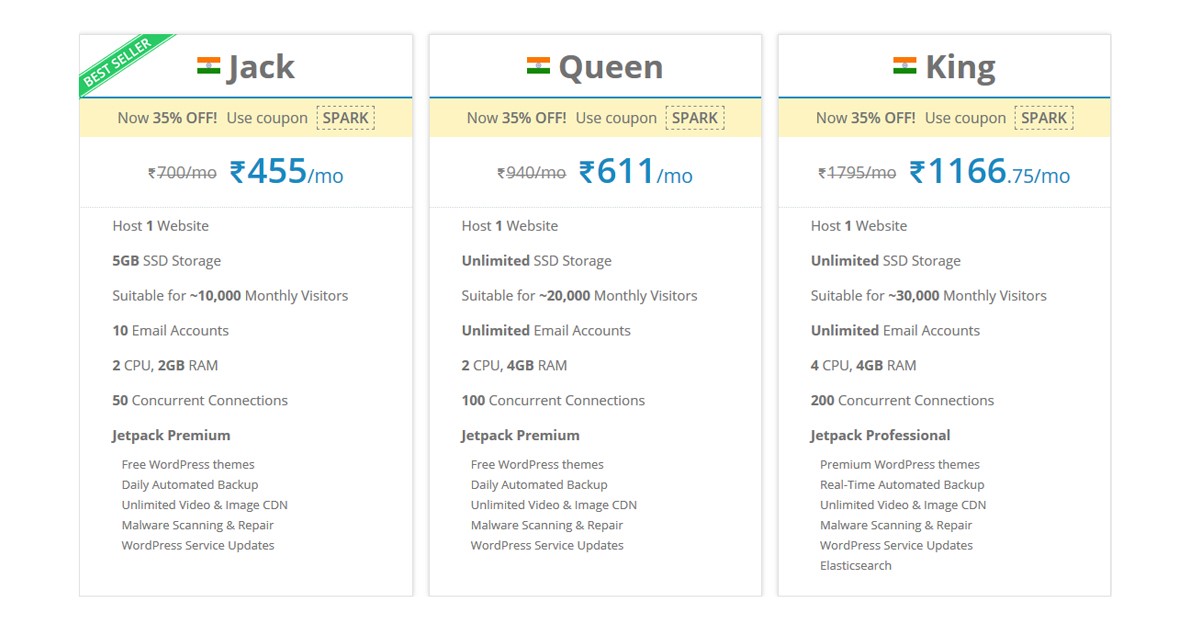 # Get a Domain:
Getting a memorable domain is the main factor that can take your business to the top. The aim behind getting a memorable domain is to make easy for the customers to find you.  There are "n" number of top level domain extensions available and you can select anyone depending on your requirement. In case, you didn't get .com extension you can opt for .net, .org, .in and more. These extensions also help the site to get on the top in search engine. It is suggested to use domain name related to your business only. In addition, you can also take a country specific extension to rank for that location. If you are a chef you can use a related keyword in your domain that you think will rank high.
# Install WordPress
Once your hosting account is set up next step is to install WordPress and start running. At MilesWeb, you will get the assistance from the support team. Their support team is available 24*7 and they are reachable via chat, mail and phone.
# Choose a WordPress theme
Next very important is WordPress theme!! The theme is important because it is the medium to showcase what your business is all about. The WordPress consists of million of themes, you can use any theme for your website. Before finalizing the theme, make sure that themes which you are selecting are relevant to your business. It is suggested to check the preview the theme before installing.
# Configure the plugins
The WordPress plugin is a program that is written in PHP language, that includes a particular feature of WordPress website. It offers an easy customization and flexibility to the WordPress site. As your usage of WordPress increases, you will get to know more plugins and its benefits.
# Get appealing logo
Getting an appealing logo is the biggest thing that will take your business to the next level. No matter how small is your business but getting a logo is essential because it speaks about your business. You can use tools like Canvas and LogoMaker or consult a professional designer to design a logo.
# Publish your content
Once your administrative pages are ready, then it's time to add content. Including quality content will help your website to get on the top in search engine. Keep an aim to publish a fresh content on a regular basis. Select amazing layout of the blog and keep formatting of the article easy and attractive.
# Backup your site
The website data is the valuable asset and you don't want to lose it at any cost. You can use backup plugins to take backup of the website data. MilesWeb offers back up tool at just Rs.99/ mo and you can take backup of website data on cloud infrastructure.
Conclusion:
After following all the above mentioned steps you can set up your WordPress website and get ready to fly on in the search engine by using WordPress plugins. How you implement any new techniques to make your site superior? Feel free to share with us!