Feel the serenity of the beautiful mountains-
Most of the hill stations in India which were founded by the British, around a central mall, to get respite from the scorching summer heat. Many have picturesque lakes as their focal point, making them excellent places for boating activities. One thing is for sure, you won't be short of things to do at any of the hill stations in India. And to add to the adventure, it's possible to take a toy train ride up and paragliding to some of the hill stations. You'll find hill stations all over India. This guide lists the most popular ones.
1. Srinagar, Kashmir-
Srinagar, the summer capital of Jammu and Kashmir, delights visitors with its lovely lakes and relaxing houseboats. Srinagar is often referred to as the "Land of Lakes and Gardens".
2. Manali, Himachal Pradesh-
Located in the Kullu Valley of mesmerizing Himachal Pradesh, it's a magical place covered by cool pine forest and the gushing Beas River.
3. Nainital, Uttarakhand-
The hill station of Nainital, in the Kumaon region of Uttarakhand, the popular summer retreat for everyone.It features the serene, emerald colored Naini lake and the action filled strip called The Mall, lined with restaurant, shows, hotels, and markets.
4. Munnar, Kerala-
If you like tea, a visit to Munnar, in Kerala, is a must! The surrounding area and its beauty are famous for its sprawling tea plantations.
5. Ooty, TamilNadu-
Being the most popular attraction he place includes huge Government Botanical Gardens, boating on Ooty Lake, and climbing Dodabetta Peak for an excellent view of the Nilgiri hills.
And many more attractions are there in India like Kodaikanal, Tamil Nadu, Darjeeling West Bengal, Shimla Himachal Pradesh, Mussoorie, Uttarakhand etc.
There are numerous hill station magazines in Hindi as well as in English,that can give you the real essence of the beautiful hills.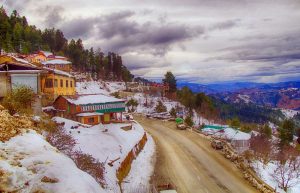 Life in hilly areas
The people living in the mountains generally rely on farming. Farming is done on slopes of hills for growing rice, maize, and tea depending on the height of the region they are living. The Dal Lake in Kashmir is a place where many people make their living by using boats called shikaras to give rides to tourist. People also make some handicrafts offering them a good source of income.
In the eastern states, most of the people belong to different tribes like Hari, Khalid, etc. They hunt, cultivate land and catch fish for a living.
In the mountains homes usually have sloping roofs to prevent the rainwater and snow from collecting.
Food in hilly areas
An area where Indian food is prominent yet local hilly food presides.List of the food which is found in hills is: Dal Bhat: a famous food in every hill station, momos of Himalaya, Tea, Paneer (cottage cheese): found in the Himalayas, Thukpa ( Noodle Soup). Originated from Tibet, Booze..it is a local liquor found in Sikkim, Himalayas, Paratha: a common Indian dish, Dum Aloo ( potato curry) These areas are filled with fresh vegetables, fruits, and natural goodness.
Not just food hills have a lot to offer to all the explorers, people who are bored of the usual schedule of life and yearning to get rid of them for a couple of days, hill stations are the best solution to the problem, we all have grown up hearing stories about fairies, ghosts and the best were the Hill station stories in Hindi with those castles and made our childhood a memory was one way to enjoy a peaceful life in a blissful location.